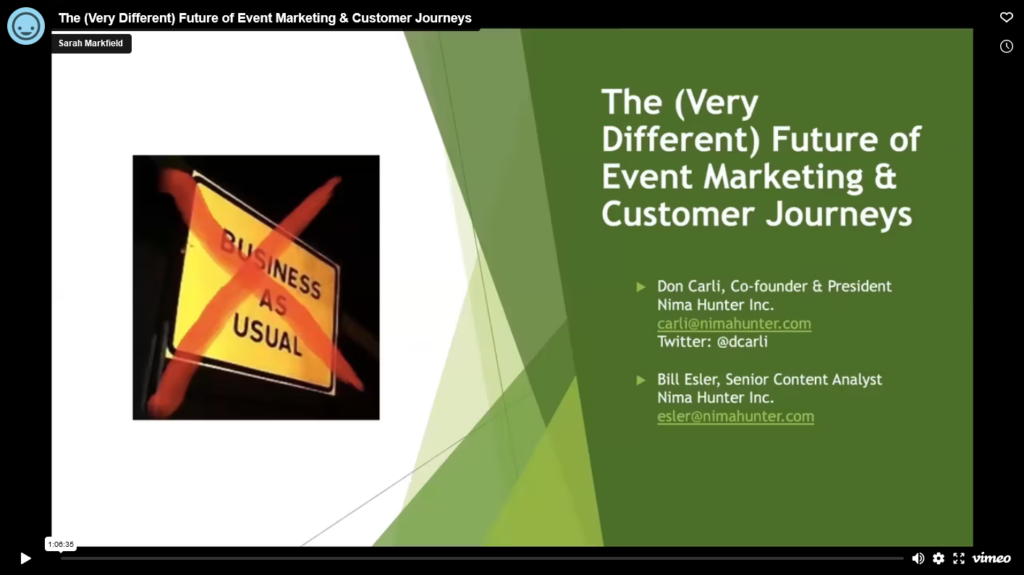 https://vimeo.com/453288434/fcb52307e6
Digital transformation, product innovation cycles, and yes – a global pandemic – are some of key factors accelerating change and evolution in customer decision journeys and the role of B2B events.
As these forces sweep through our industry – companies have been left wondering:
What will new customer decision journey look like?
How should we adapt our go-to-market strategies accordingly?
What role are B2B events likely to play in customer decision journeys?
APTech is here to help you identify current challenges (even if you think you already know what they are) and address them in this new world. APTech has engaged the research firm Nima Hunter Inc., to survey the most current research on these topics, and we're eager to share key insights that can help you adapt and thrive in the months and years ahead.
We want to provide YOU with insight on current and anticipated changes in customer attitudes, expectations and behaviors on the events horizon.
Topics covered include:
How COVID-19 has altered the pace and nature of change .
What do experts say about COVID-19's impact on the B2B event industry?
How and when are live, hybrid, and virtual B2B events likely to evolve?
What is the value of new technologies and best practices for shared customer event experiences?
What are the implications for print technology OEMS and their customers?