Nima Hunter Inc. assists business leaders and marketing professionals in the creation and implementation of robust strategies aimed at facilitating business transformation and fostering sustainable growth.
Our Experience and Expertise
Throughout the 20+ years, we have been in business, Nima Hunter Inc. has encountered a broad array of client issues, engaged with numerous categories, and familiarized ourselves with various markets. Our comprehensive expertise in every facet of communication and media value chains, coupled with our deep understanding of product/service lifecycles, enables us to guide products and services from their inception through to development, marketing, usage, stakeholder relationship management, and eventual phase-out.
---
Areas of Successful Client Support
Our successful intervention areas encompass a wide range of issues:
Business Development
Business Intelligence & Competitive Threat Analysis
Go-To-Market Strategy Development
Branding, Positioning, and Messaging Strategy
Marketing Research & Social Media Analysis
Sustainability Strategy
Technology Assessment
Environmentally Preferable Procurement
Environmental Claims Verification
Product Lifecycle Analysis
Carbon Footprint Analysis
Corporate Social Responsibility Management
Our Mission
Our primary aim is to help companies better understand and effectively serve their stakeholders. We provide assistance in mapping the needs and concerns of shareholders, customers, employees, and other stakeholders. We identify and scrutinize opportunities and challenges, assisting our clients in devising fact-based strategies and tactics for sustainable growth and successful stakeholder engagement. A key part of our approach is the strict respect for the confidentiality of sensitive client data, ensuring the privacy of stakeholders engaged in dialogue on our client's behalf.
CLIENT LIST
Among the clients we have had the privilege to work with are:
Adobe
Agfa
Barnes & Noble
Buchalter, Nemer, Fields & Younger
C2E2 (The College Consortium for Environmental Excellence)
Cameron-Cole
Care-Tech
Convergence LLC
Cygnus Publishing
Domtar
DuPont
Gravure Association of the Americas
Hewlett Packard
Hover
IBM
Kodak
Maritime Gloucester
NPES (Association for Suppliers of Printing Publishing & Converting Technologies)
North American Publishing Company
Ogilvy Earth
Presstek
Reed Business Information
Retro-Tech
Saatchi & Saatchi Advertising
Systemtext
Time Incorporated
Xerox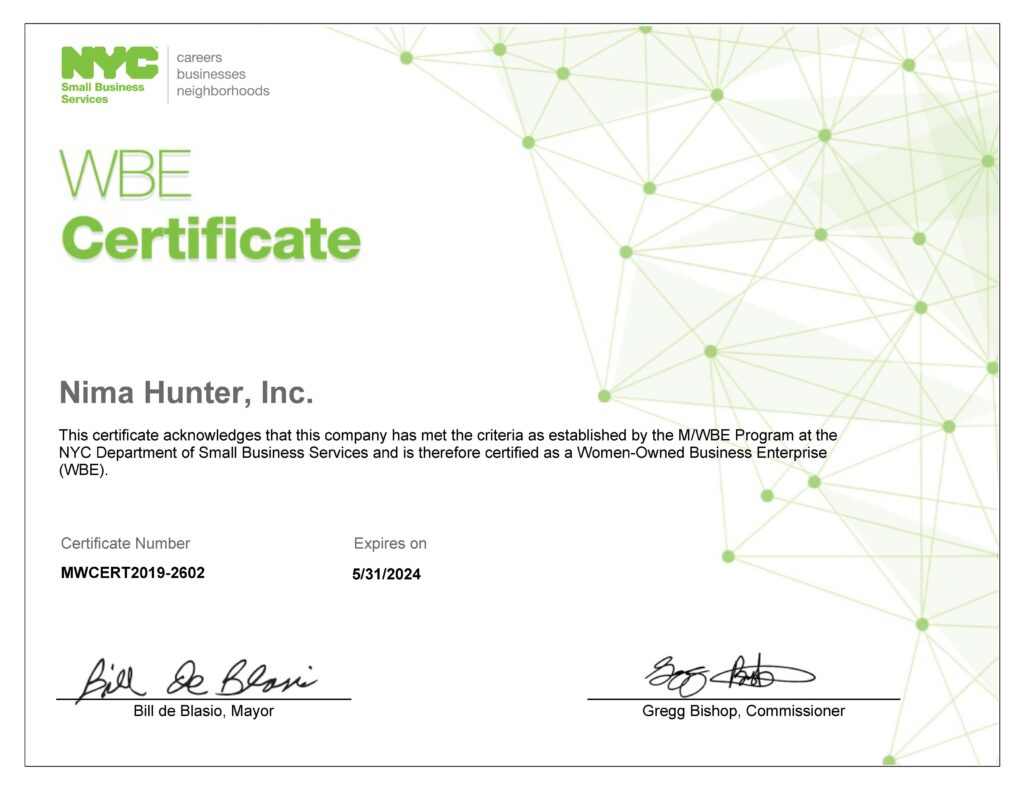 Nima Hunter Inc. is an NYC-certified women-owned business that specializes in helping business leaders and marketing executives identify new product and market opportunities, assess emerging issues, evaluate competitive challenges, and support the development and deployment of robust strategies for business transformation and sustainable growth.